Page path:
NS-Documentation Vogelsang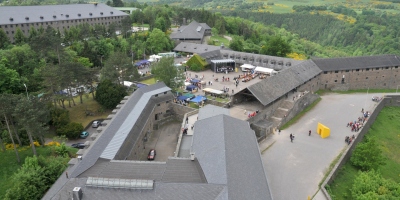 For visitors with impaired sight there is a sensory trail guiding them through the expedition. This trail directs the visitors to sensory information boards. The guide is supported by the sophisticated technology of our media guide: audio clips start automatically via NFC as soon as the media guide is placed on the information board.
Our media guide not only gives valuable support for accessibility, it also translates the information boards written only in German for foreign speakers. Visitors can choose if they want to read the texts themselves or if they would like to have it read out to them via Text-to-Speech technology.
The "Wilderness Dreams" is the second of the large permanent exhibitions in this complex for which we have developed a media guide. This exhibition is dedicated thematically to the neighbouring Eifel National Park and more information can be found here!
More information about Vogelsang

The former National Socialist "Ordensburg" is not only one of the largest constructions of National Socialism, but also an expression of its arrogance and contempt for humanity.
Through its military use as "Camp Vogelsang" after World War II, the site also reflects the evolution from the "Cold War" to the Europe of today. A new site has been developing here since 2006: Vogelsang IP as an "International Place" for tolerance, diversity and peaceful coexistence. 
"WHAT KIND OF WORLD DO WE WANT TO SHARE?"
... is one of the leading questions. In our dynamically globalising world, the site partners want to contribute their own inspiration towards developing the shape of our current world and the future. This relates both to society and to the treatment of nature. In the exposed location in the middle of the Eifel National Park, ideas such as "let nature be nature" and "give the wilderness free rein" can be experienced at first hand. Thus, the Eifel National Park on the one hand offers resources for biodiversity, and on the other space for experiences, retreats and study.
In addition to numerous impulses, Vogelsang IP and the Eifel National Park also offer space for relaxation and calm, for enjoyment and appreciation. A reminder of the warning of the past and an appreciative, positive basic attitude combine here to a powerful, forward-looking energy.