Request
NEW: MULTILINGUAL BACKEND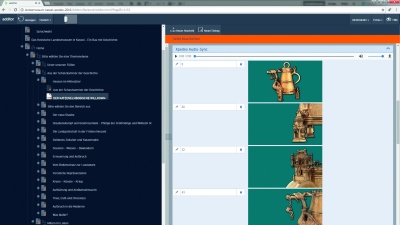 Simply maintain your website yourself!
Our additor content management system, which is easily operated by intuition, enables your employees to change or enhance the contents of the multimedia guided tours at any time or to periodically update any such content. This does not even require the installation of additional software: a simple Internet browser is all you need.
Do you wish to enrich your guided tour with additional images, texts, sound or video files? Synchronise audio contributions with image galleries or upload barrierfree content? Swiftly add a special exhibition or a new exhibit? Thanks to additor, you will be able to do so both quickly and very easily!
additor is a web-based software used for editing websites. It allows you to maintain the technical side of your website and at the same time design and update the layout and content. Novices can update information, create entries, add and edit text, photos,videos, charts, documents, etc., and upload it online immediately. The concept of additor is simplicity. You work directly online. Knowledge of HTML or web experience is notnecessary.
The same principle applies to multimedia terminals and websites
If you wish to publish your information on a crossplatform basis, i.e. for instance via terminals or via your website, you will only require one content management system. Data only have to be entered on one central device, and additor will see to it that the resulting contents are displayed automatically on all respective media in the best possible way.