Anfrage
Page path:
Eifel National Park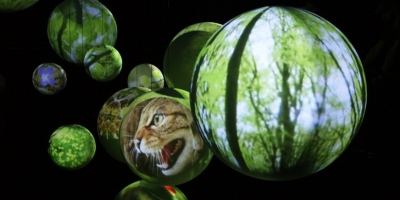 The "Wilderness Dreams" exhibition is the second of the large permanent exhibitions within the complex at Ordensburg Vogelsang which we have helped to develop.

The exhibition concept focussed strongly on there being accessibility throughout the exhibition area. Our media guide provides optimum support in this. We worked together with people with impaired sight and developed a special user interface. After some short instruction this interface also functions successfully for the sightless. A sign language guide is available for visitors with impaired hearing and a version using more simple language can also be selected.
Set in a dramatic landscape of woods interspersed with water, the Eifel National Park allows to experience the fascinating natural diversity of a wilderness at first hand. For in this large protection area some 65 kilometres southwest of Cologne, nature has been left once more to its own eternal cycle of growth and decay. Over an area of 110 square kilometres (17,000 football pitches), the motto is "Let nature be nature", as it is in National Parks all over the world. Wildcats and black storks live in the National Park, and researchers have shown that around 1,600 other endangered species of animals and plants are also at home there.